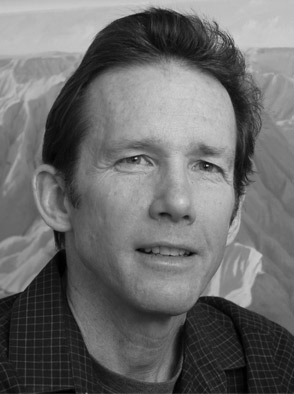 Before settling in Minnesota in 1994, Charles Lyon spent over a decade living in the high Arizona desert where he taught photography, rock climbing and kayaking. As he developed an interest in color, he set aside black and white photography and began to work in textiles and later, pastels. After his move to Minneapolis, Lyon returned to school to study painting and received his MFA degree from the Minneapolis College of Art and Design in 1999.
In 2005, Lyon was chosen to be an Artist in Residence in Badlands National Park. In 2007, Lyon painted an ornament representing the park for the White House Christmas tree. Lyon was also awarded a 2009 Artist Initiative Grant from the Minnesota State Arts Board for continued work on his paintings of snow in the city. For the last six years Lyon has been painting the flowers he finds in his Minneapolis neighborhood.
Artist Statement:
The angel has a long and varied history. Why has it been so dominant and insistent? Values such as compassion, hope, transcendence and even metamorphosis come to mind. They strike me as extraordinary in our internet age … the supermarket of information and images constantly available to us on the web omits aura. The ten statues of angels on Ponte Sant'Angelo have a presence and urgency that I've rarely felt anywhere else. Suspended on a bridge, they are simultaneously ominous and benevolent, substantial yet otherworldly. On the bridge, I felt part of a historic axis. To the south and east lies the ancient city. Looking north and west I saw St. Peter's Basilica and the Vatican. I was standing where pilgrims, religious leaders and tourists have traversed from one epoch to another.
Most of the angels in this exhibition are from Ponte St. Angelo which spans the Tiber at a geographic nexus. The bridge has the carried the weight of thousands of pilgrims for centuries as they crossed from the old city to St. Peters. The current version of the bridge was constructed during the papacy of Pope Clement IX in 1669. He commissioned Bernini to decorate it with 10 angels and the Apostles St. Peter and St. Paul. Bernini only completed two of the sculptures and his followers fabricated the remainder. Each angel carries an instrument from the passion of Christ.
I have painted a basically monochromatic subject with warm and cool neutrals creating the mood of a specific time of day in the oil paintings. With the watercolors I am experimenting with Styrofoam as a mark-making matrix to suggest the surface of travertine, marble, or the decaying walls I saw in Rome.