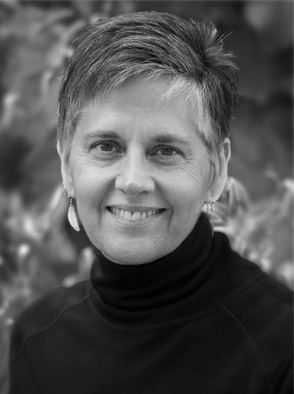 Dani Roach was born and raised in Wisconsin and received her BFA from the University of Wisconsin, Milwaukee. Roach moved to Minneapolis in 1980 and was a member of WARM Gallery from 1983-1988. Roach has been granted artists' residencies at the Ragdale Foundation in Lake Forest, IL; the Millay Colony in Austerlitz, NY; and VCCA in Amherst, VA.
In 2012, she was one of twelve artists invited to participate in the inaugural 12'12'12 project at the Minnesota State Fair. Other awards for Roach's work include a Jerome Foundation Travel/Study Grant, a Moebius Exceptional Achievement Award from the University of Wisconsin and a Purchase Award from the University of Minnesota.  Concurrent with her artistic pursuits, Roach has worked in academic libraries for over 35 years. Roach has been represented by Groveland Gallery since 1984.
Artist Statement:
The past year-and-a-half has been a time of personal transition and included a change of studio space for the first time in more than 30 years. I wondered how this might impact my work, and I was surprised when the paintings for this show began to quietly circle back to earlier themes and subjects. Perhaps the images of stillness and familiarity appealed to me during this period of seismic transformation.
The compositions are tightly arranged in my paintings to emphasize shapes and patterns of light and shadow. I'm still exploring the balance between representational and abstract; flat color shapes and dimensional objects. Much of the work for this show has an element of quiet, whether that comes in the form of empty interiors or people-less landscapes. Even the figures that are included seem to be in their own worlds. The ferry passenger in Looking vs. Seeing is absorbed by getting a good photo of the surrounding harbor. The painting, however, implores the viewer to notice the interesting scene right there, to observe the observer. Colors compete with one another for attention. Surfaces shift from textured to hard, and the water becomes simplified to color and pattern in a flattened space. I found the immediate surroundings far more visually interesting than the view beyond.
In general, water is a constant theme that continues to run through this body of work. Over and Above is a view of the Mississippi River from The Carlyle high-rise in downtown Minneapolis. Seeing the river from this vantage point was compelling, and documenting it in a painting was engaging. I was drawn to the contrast of rushing water flanked by the row of circular mooring cells and calm surfaces. An empty bridge with few details removes the rush of human activity. The movement of traveling across, over and on water was balanced by the expanses of flat surfaces. The late afternoon light danced as much as the water.
One shift this work exhibits is its scale, with some of the canvases larger than I've painted in 25 years. After selling/purging older works and setting up a new studio, I was open again to working larger. The watercolors here are handled as in the past, with many thin layers of paint that establish an atmospheric quality. I'm still learning how to make the paint do what I want it to do. Whether watercolors or oils, that never gets old. It has become a clearer force driving my painting than a quest for new subjects.
View Dani's recent exhibition here.