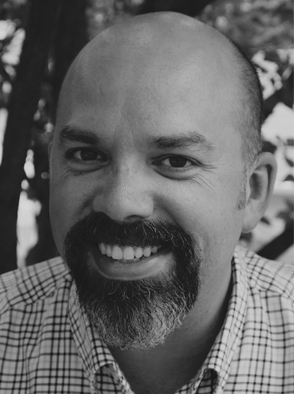 Joshua lives in St. Paul, with his wife, Shannon and their children, Greta and William. Despite most of his subjects being found close to home, his paintings can be found in private collections throughout the US and a few in Europe. His work has garnered national recognition with inclusion in OPA National Juried Show and a feature in Plein Air Magazine. He was selected by the Science Museum of Minnesota as an Artist in Residence at the historic Pine Needles Cabin. With a growing regional reputation, Joshua's work has been featured in numerous publications.
Joshua Cunningham grew up the third of five boys in rural Isanti, Minnesota.  His path to becoming a professional artist was as winding as the country roads from his youth. It began in the abstract art departments of St. Cloud State and St. John's University. The summer break offered a unique opportunity to apprentice with Minnesota fresco painter Mark Balma. The summer became a yearlong classical drawing program. Mark had opened the door to a very old world of art, and rather than return to St. John's, Joshua chose to continue his training at The Atelier in NE Minneapolis, focusing on figure and portrait drawing for two years. He spent the next four years at Hurinenko and Paquet Studio in St. Paul, studying portraiture, still life, figure drawing and plein air landscape painting. Landscape painting began as an afterthought, but with Joe Paquet's inspiring work ethic and keen instruction, it quickly took over. For Joshua, few experiences were as challenging or enriching as painting on location. It brought Joshua back to his roots. He was learning to do what he had truly wanted to do as a boy.
Artist Statement:
Oil painting is the way I seek to understand what sparks my curiosity, stirs my faith, and awakens old memories. It is my hope that the work will stir those things in viewers, too. Whether working in the studio or out in the field, I do my best to convey what caught my eye because I feel representational painting offers a human expression of the world around us in a language we all hold in common. This vision led me out of college onto my own path that evolved from the accuracy of a court reporter to the truth of a poet.
The practice of painting on location tethers one to life. There is a liberating urgency to the work, because it can only be done then, before the scene is lost to mercurial skies and the constant march of the sun. You don't freeze the moment so much as stretch it out until the shadows move and the colors change. I am left to paint from memory; thankfully we tend to remember what's important. I think this is where the painting comes to life – in the beginning I am taking great care to weave together all this interconnected information, and when the light has faded, I am free to serve the painting, just as the painting served nature.