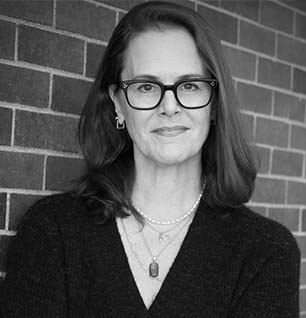 Kit Wilson, a Minneapolis native, earned her BA in art history from Dartmouth College in 1989. She participated in the Dartmouth foreign study abroad program in 1988, studying renaissance art in Florence, Italy. From 1990-1992 she was co-director of Forum Gallery in Minneapolis. After leaving Forum, Wilson changed careers and became a teacher. Until 1999, Wilson taught geography to middle school students in Eden Prairie, Minnesota. Throughout her adult life, Wilson has made art, but not until 1999 did she devote herself to it.

She began exhibiting her work at Groveland Gallery in 2002. Her work is included in numerous Twin Cities private and public collections. Kit maintains a studio in her home in south Minneapolis. She is also currently a docent at the Minneapolis Institute of Art.
Artist Statement:
I've been thinking a lot about interest, awe, and wonder. Every morning when I drive my daughter to school, invariably I say, "look at that sky!" It is because the morning sky truly interests me, every day. Sometimes it is a stunningly beautiful sunrise. Sometimes, the morning is the most dense and somber gray. Both convey meaning. Both capture my interest.
My paintings are of the views that I inhabit. They are of places I know intimately or discover anew. I consider earth, water, and sky. I revel in the way clouds and sky alter the light on the earth below. I am drawn to trees and rocks that punctuate water and push through a plane to vary its textures and present new counterpoints. It is all endlessly changing and fascinating. I stand in awe of it.
I hope to convey a sense of place with my paintings and to inspire in the viewer a feeling of nostalgia, of discovery, of peace and of wonder.