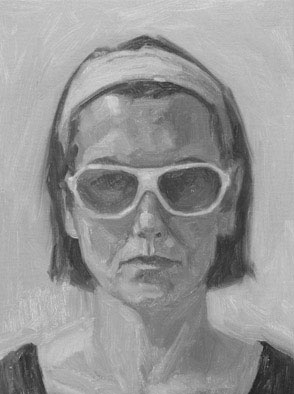 Kristie Bretzke received her BFA degree from the University of Minnesota where she studied studio art and art history. Bretzke's recent solo exhibitions include Kristie Bretzke: Portraits at Traffic Zone Gallery in Minneapolis and Kristie Bretzke: Eye of the Beholder at XYandZ Gallery, also in Minneapolis.

Bretzke's work has been featured in numerous group exhibitions, including shows at Winfield Gallery in Carmel, California and the Kaiping Art Museum in Kaiping, China. She has been an artist-in-residence at the Centre D'Art (2012), in Marnaysur-Seine, France; Palazzo Rinaldi (2012), in Noepoli, Italy; and the Kunstlerhaus (2010), in Salzburg, Austria. Bretzke is an artist-member of the Traffic Zone Center for Visual Art, a prominent artist cooperative located in the historic Warehouse District of downtown Minneapolis, where she maintains her painting studio. She also serves on the Board of Directors of the Traffic Zone Center for Visual Art and at Public Functionary, an innovative new exhibition space in Minneapolis. She also serves on the committee for Art 4 Shelter.
Artist Statement:
My most recent work represents a new direction for me as a painter, moving temporarily away from portraiture to address architectural structures in the environment. This is a series of paintings of empty swimming pools, conjuring memories and yearnings from my youth. The rainy nocturnes feature massive concrete pools bathed in cool light. The season is over but the stark beauty remains. Also included are pools from a construction site in India, a graffiti-covered park in Italy, to a luxury rooftop in Minneapolis. These paintings are simple, quiet and presented in a straightforward and unadorned fashion. My motivation is to express emotion and create a contemporary statement.
As a lifetime student, I strive to see more deeply and speak more clearly. Though I frequently work from photos, my work from life contributes to my understanding of the limitations of photography. I study anatomy, figure drawing and plein air painting. These things challenge my skills, test my humility and inform my work.
View Kristie Bretzke's current exhibition here.