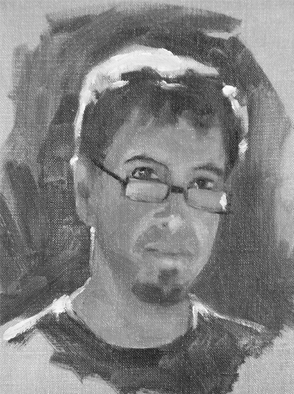 Michigan-native Richard Abraham moved to Minneapolis in 1998, leaving a 14-year career as a designer and animator to study traditional oil painting techniques at The Atelier, the Bougie Studio and H&P Studios. During this time he painted plein air landscapes for the first time and discovered a passion for the subtlety of nature.
The challenge of working outdoors consumed him and he hasn't looked back. He was featured artist in TPT's award-winning arts series, Minnesota Originals, and has been invited to paint in numerous prestigious plein air events including the Laguna Beach Plein Air Painting Invitational and the Telluride Plein Air Festival. Most recently, he took second place at both the Shadows on the Teche Plein Air Event in New Iberia, Louisiana and in the Hudson Plein Air in Hudson, Wisconsin. He received first place in the Quick Paint at the Paint the Point Plein Air event in Mineral Point, Wisconsin. Richard exhibits his work extensively and his paintings are included in numerous private collections.
Artist Statement:
A few years ago I was painting on the Lake Superior shore north of Grand Marais, it was a bitterly cold morning in March. My hands were numbing, the wind was cutting right through all my layers, it was awful, and yet I was aware of how happy I was to be right there doing what I do. The reward for being an artist is the time spent painting. Not awards or exhibits, but the act of making art. The entire world disappears except for your effort to express something honestly on a canvas about the way you see the world, that's why I paint.
View Richard's recent exhibition here.