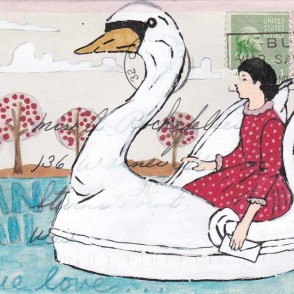 June 12-August 15, 2015
Love Letters from Artists
Opening Reception: Friday, June 12, 5-8 p.m.
Gallery Talk by Peter Kramer, "Curator of Love Letters": Thursday, July 30, 7-8 p.m.
Closing Party: Saturday, August 15, 2-5 p.m.
Love Letters from Artists, an invitational group show curated by St. Paul architect and artist Peter Kramer, presents over 80 letters from artists across the Twin Cities. Artists were invited to create a love letter of any sort and mail it to the gallery for exhibition. This show promises to be a unique celebration of the tradition of writing and receiving letters. Amongst the artists included in the show are Amy Rice, Ann Ledy, Betsy Byers, Brian Frink, Carolyn Swiszcz, L.K. Hanson, Jodie Ahern, John Ilg, Jon Neuse, John Schuerman, Mike Norman, Philip Rickey, Harriet Bart, Dan Wilson, Anne Labovitz, Joyce Lyon, Jaron Childs, Tom Maakestad and Larry Welo.