Visit the Twin Cities' top Gallery of Local and Regional Art.
Since 1973, Groveland Gallery has specialized in exhibiting and selling contemporary, representational paintings, drawings and original prints by Midwestern artists. Our Minneapolis art gallery features new exhibitions every six weeks, and offers fine art collection services for individuals and businesses.
We're just a short walk from the Walker. Google map us.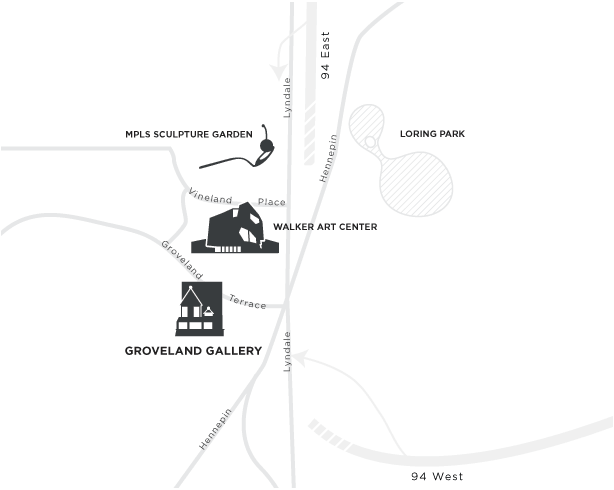 Groveland Gallery is located in a restored 1890's mansion on the edge of downtown Minneapolis, just south of the Walker Art Center.
Parking is available in the parking lot directly in front of the building or on the north side of Groveland Terrace. Additional parking can be found in the Walker Art Center's underground parking ramp. The entrance is located on Vineland Place.
April 21 - May 26, 2018
Threads of Color
Opening Reception: Saturday, April 21, 2-5 p.m.
Quick and decisive strokes fill Susan Horn's canvas. She writes, "As I am painting, I am looking for a resonance – a rhythm that physically hits you like a deep chord. This is the sensation I paint towards." Deviating from her past semi-abstract landscapes, in this exhibition Horn employs color relationships to communicate an attitude or impression. In these paintings, confined neighborhoods of blue, teal and burnt orange rub shoulders and create a dialog.
Add to Calendar 09-05-2014 01:00:00 10-14-2014 11:59:59 11 NAME OF ARTIST Exhibition at Groveland Gallery SHORT DESCRIPTION HERE 25 Groveland Terrace, Minneapolis, MN 55403 Groveland Gallery info@grovelandgallery.com true DD/MM/YYYY
June 2 - July 14, 2018
Quiet Water
Opening Reception: Saturday, June 2, 2-5 p.m
In this upcoming show, Michael Paul departs the prairie to focus on the horizon of Lake Superior and the forests of the Boundary Waters, an area he has long enjoyed exploring. His encaustic paintings and silverpoint drawings shift between shorelines and open waters, taking in the full measure of these freshwater treasures. His keen eye for detail and atmosphere allows observers to marvel at the blue expanse of the lake, textured rock formations protruding from the deep water, or the movement of the waves against a bank.
Add to Calendar 09-05-2014 01:00:00 10-14-2014 11:59:59 11 NAME OF ARTIST Exhibition at Groveland Gallery SHORT DESCRIPTION HERE 25 Groveland Terrace, Minneapolis, MN 55403 Groveland Gallery info@grovelandgallery.com true DD/MM/YYYY