Visit the Twin Cities' top Gallery of Local and Regional Art.
Since 1973, Groveland Gallery has specialized in exhibiting and selling contemporary, representational paintings, drawings and original prints by Midwestern artists. Our Minneapolis art gallery features new exhibitions every six weeks, and offers fine art collection services for individuals and businesses.
We're just a short walk from the Walker. Google map us.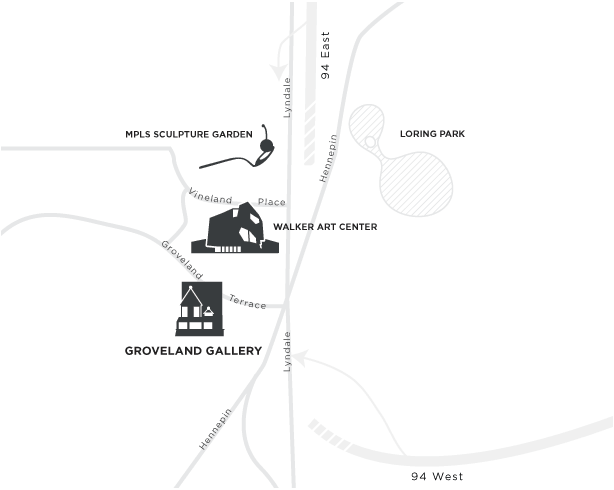 Groveland Gallery is located in a restored 1890's mansion on the edge of downtown Minneapolis, just south of the Walker Art Center.
Parking is available in the parking lot directly in front of the building or on the north side of Groveland Terrace. Additional parking can be found in the Walker Art Center's underground parking ramp. The entrance is located on Vineland Place.
January 26 - March 2, 2019
Fascinators
Opening Reception: Saturday, January 26, 2-5 pm
Fascinators by Ellen Heck is a series of portraits in which the sitters are wearing Möbius strips and other mathematical or paradoxical figures as hats. Reminiscent of fascinators, these forms could only be worn and held convincingly in the two-dimensional world of the print. Using combinations of woodcut, drypoint on copper, and hand painting, the flatness of the figures is contrasted with the dimensionality of their headpieces. A narrative begins to open up between the adorned female figures and the Möbius, used by the artist as a physical manifestation of abstract or invisible concerns.
Add to Calendar 09-05-2014 01:00:00 10-14-2014 11:59:59 11 NAME OF ARTIST Exhibition at Groveland Gallery SHORT DESCRIPTION HERE 25 Groveland Terrace, Minneapolis, MN 55403 Groveland Gallery info@grovelandgallery.com true DD/MM/YYYY