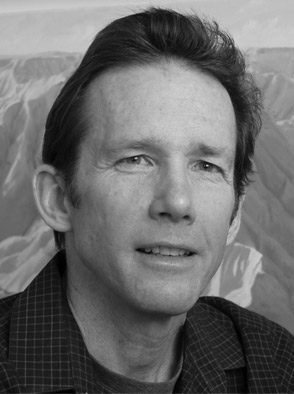 Before settling in Minnesota in 1994, Charles Lyon spent over a decade living in the high Arizona desert where he taught photography, rock climbing and kayaking. As he developed an interest in color, he set aside black and white photography and began to work in textiles and later, pastels. After his move to Minneapolis, Lyon returned to school to study painting and received his MFA degree from the Minneapolis College of Art and Design in 1999.

In 2005, Lyon was chosen to be an Artist in Residence in Badlands National Park. In 2007, Lyon painted an ornament representing the park for the White House Christmas tree. Lyon was also awarded a 2009 Artist Initiative Grant from the Minnesota State Arts Board for continued work on his paintings of snow in the city.
Artist Statement:
Traveling by canoe is one of my favorite ways to experience wilderness. Silently gliding over iron-tinged water in the BWCA is deeply satisfying physically and esthetically. The sky and water merge as one gets lost in the rhythm of paddling. But, being wilderness, there are days full of adversity. Wind, rain, and bugs can be as much a part of one's experience as reflections on the lakes and smells of the moist boreal forest. And it is a humbling experience trying to navigate. Surprisingly, weather has entered my work as I revisit my experiences "up North" as paintings.