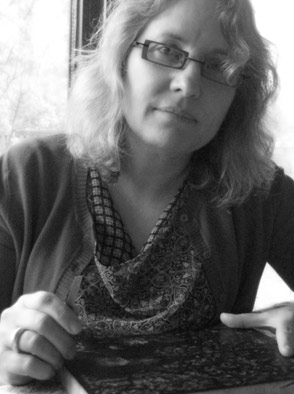 Cindy Koopman grew-up in southern, Minnesota. She has earned a BA in art education and a MFA in printmaking. Between 1989 and 1992, Koopman worked as a printmaking instructor for the Lacoste School of the Arts in Lacoste, France. She continued her education through various workshops in the arts and is currently a faculty member at Normandale Community College in Bloomington. She has exhibited both nationally and internationally. She lives in Minnesota with her family.


Artist Statement:
Serial obsessions and fixations. I enjoy working in series; exploring an image or idea for an extended period of time. Currently, I am marrying new obsessions to old. Twine and pears and scissors meet branches and pruners. These objects have a certain innate tactile physical quality that is appealing. Because they are so very ordinary and familiar, these objects can be easily loaded with memory and meaning.
My compositions often reflect a focused observation of a singular image set within a starkly compressed space. I am constantly attempting to distill the image – the idea – into a concise moment. This is why I often concentrate on a single object or group of objects for a series of works. I am trying to exhaust each object of its possibilities before moving on. Just as in the beginning, I am still building these images around and through the formal issues of color, value and space.