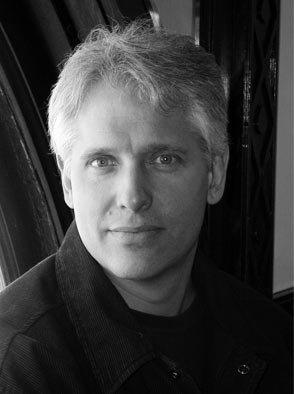 Nebraska native Dan Bruggeman teaches in the fine art department at Carleton College in Northfield, Minnesota. During his 30-year career, he has been awarded numerous grants, including the Minnesota State Arts Board Grant, an Arts Midwest/NEA Visual Art Grant and a McKnight Foundation Grant.

Dan's paintings reveal the sometimes odd intersection between manmade structures and nature. Of his newest body of work, Bruggeman has written: "these paintings are narrative images representing landmarks of human invention … they align nature, religion and outdoor recreation. For North American artists, these are traditional avenues for seeking the transcendent and the sublime. They offer a literal and psychological interpretation of what has always made the landscape compelling to me: the simultaneous sense of vastness, catharsis and fear."
Artist Statement:
I passed by the clearing, a wooded area beside the railroad tracks, hundreds of times before I noticed it: The Couch. Mute and serene, there it sat through winter and summer, a mystery as to how or when it arrived.  Like an idle theatre set, there are different props surrounding it each time I visit, reminding me that it is anything but abandoned. Resting in a suspended state, the gnarled sleeping bag, the cold camp-fire and the empty bottles at the foot of the couch are alluring and haunting.
I imagine the cast and drama this setting attracts deep in the night. The fact that this couch could reside in this place for eternity, or could be removed tomorrow, made me want to paint it.
But while this captivating, wooded arena describes some sort of story, it resides in a larger, more panoramic vista. One that is defined by an even more dramatic expanse of sky and land that meet at the edge of our vision. Those couple of inches on either side of the horizon are the subject of the paintings in this exhibit.
The serenity of a forsaken school bus, a vacant farm or a blazing home are animated upon this sliver of skyline, reminding us of the promise and threat that has always told the story of North America.  My goal is to paint the not-so-emptiness of the plains; earth and sky, separated at the edge of visibility. Compressed and squeezed along this edge, these scenes are a reminder of the powerful and defining forces that envelop and eventually erase all things. Some call that edge sublime, but in these paintings, I want there to be little doubt that the events and places depicted are ephemeral and likely to disperse and vanish. 
The Midwest remains both alluring and bleak to the outsider, and it requires, maybe, a little more imagination to see the unremarkable as uncanny, precarious and ephemeral.  
*(Laura Cummings May 15, 2016 review in The Guardian of George Shaw's 2016 exhibit My Back To Nature at London's National Gallery)
Dan Bruggeman was featured on MN Original in February, 2015: