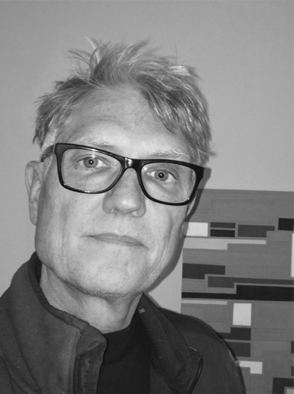 Dan O'Kane has lived a nomadic existence. Seattle, Phoenix, Boston, New York and the mountains of New Hampshire, are just a few of the places he's called home. His painterly abstractions, however, are shaped primarily by the big-sky and rolling plains of his childhood Nebraska home. A stark horizon line is a fitting starting point for his exuberant color field paintings.

Artist Statement:
This show ["Slow Blue", 2018] is the fruit of three recent trips to the Mediterranean Sea, two to Spain and one to France. The light of the sea and the brilliant colors of the cities, well, just blew my mind.
There's nothing like the colors and textures of the ancient buildings that line the narrow streets of the Gothic Quarter of Barcelona. The ancient walls, some built by the Romans, are a thousand shades of tan and ochre. Set against this are the ubiquitous storm shutters, Naples Yellow, Pink, and foamy green. It's a miasma of color all backlit by the azure blue of the Mediterranean Sea.  
If that isn't enough, the natural light that floods the interior of Gaudi's Basilica of the Sagrada Familia, is one of the wonders of the world.
In Nice, Antibes and Menton it's all about the sea. Never have you seen so many shades of blue. It is the color of dreams. Slow and blue.