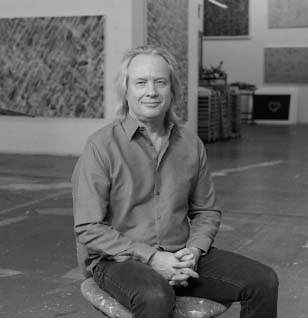 New York City-based artist Doug Argue's forty-year painting career has culminated in a well-known and recognizable body of work that ranges from pure abstraction to representation. Born in St. Paul, Minnesota, Argue's work has been the subject of numerous solo exhibitions including at Edelman Arts and Haunch of Venison in New York and the Richard Heller Gallery, Santa Monica. Two of his new monumental paintings commissioned for the lobby of One World Trade Center in Manhattan are now on display. His work is in the collections of the Minneapolis Institute of Arts, Walker Art Center, Weisman Art Museum, and numerous other museums, corporate and private collections.

Image Credit: Cristina Arza
Selected Solo Exhibitions
2023         Doug Argue: Letters to the Future, survey, exhibition, and curation by Elizabeth Armstrong,
 Weisman Art Museum, Saint Paul, MN
2022         Doug Argue: There is No Happiness Like Mine, Piermarq*, Surry Hills, Australia
Sydney Contemporary, Darlinghurst, Australia
The Life Aquatic. Oceanic Visions by Doug Argue, collaboration with German Consulate, 1014 – Space for Ideas, New York, NY
2019         Kovacek Gallery, Vienna, Austria
2018         Marc Straus Gallery, New York, NY
2017         Waterhouse and Dodd, New York, NY
2015         Scattered Rhymes, Venice Biennale, Collateral Exhibition, Venice, Italy
2013         Doug Argue, Cafesjian Center for the Arts, Yerevan, Armenia
Awards
2009         London International Creative Competition | Artist of the Year Review
2001         Golden Family Foundation
1997         Rome Prize Fellow catalogue
1995         Pollock- Krasner Foundation
         Minnesota State Arts Board Fellowship
1994         Minnesota State Arts Board Career Opportunities Grant
1992         McKnight Foundation Fellowship
1991         Minnesota State Arts Board Fellowship
1990         Jerome Foundation Travel and Study Grant
1988         Bush Foundation Fellowship
1987         National Endowment for the Arts Fellowship
1986         McKnight Foundation fellowship
1984         Jerome Foundation Fellowship
Artist Statement
There are many different histories in the world, in both art and politics, and we often see things in the current moment, yet have no idea what lies beneath. One language is always turning into another, one generation is always rising and another falling, there is no still moment. I am trying to express this flux—this constant shifting of one thing over another, like a veil over the moment itself.