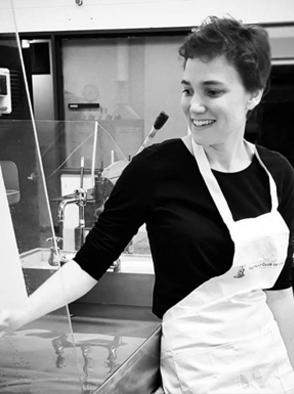 Ellen Heck grew up in Austin, Texas, and received her degrees from Brown University and The School of the Art Institute of Chicago. She is currently living and working as a fine art printmaker in California's Bay Area. An artist-in-residence at Kala Art Institute and artist-member of the California Society of Printmakers, her work is often figurative and project-based.

Her recent series and portfolios include "A Small Production of Alice in Wonderland", "Color Wheels" (in progress), "Forty Fridas" (2012), "Place and Process" (2012), "The Aging of Mark Twain on One Copper Plate" (2011), "Plus A Century" (2010) and "Lithuanian Summer" (2008).
Artist Statement:
Identity, connection, and play are continued themes in my figurative work. I use the printmaking process to highlight these concepts, which are referenced both in the subject matter and the medium.
The pieces shown in my recent exhibition "Girls", come from a few different print projects I've been developing simultaneously over the past year. My most recent theme in progress is titled "A Small Production of Alice in Wonderland," a series of woodcut and drypoint portraits of the young cast members of an imagined production of the classic novel. This project, which stemmed from ideas that arose at the end of the "Forty Fridas" portfolio, also presents costumed subjects, but focuses more specifically on youth, body language and play.