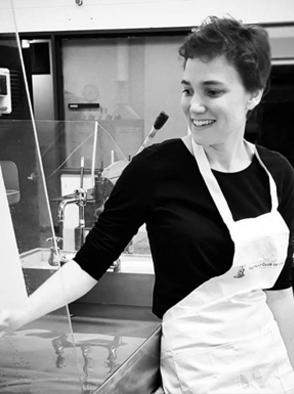 Ellen Heck grew up in Austin, Texas, and received her degrees from Brown University and The School of the Art Institute of Chicago. She is currently living and working as a fine art printmaker in California's Bay Area. An artist-in-residence at Kala Art Institute and artist-member of the California Society of Printmakers, her work is often figurative and project-based.
Her recent series and portfolios include "A Small Production of Alice in Wonderland", "Color Wheels" (in progress), "Forty Fridas" (2012), "Place and Process" (2012), "The Aging of Mark Twain on One Copper Plate" (2011), "Plus A Century" (2010) and "Lithuanian Summer" (2008).
Artist Statement:
Fascinators is a series of portraits in which the sitters are wearing Möbius strips and other mathematical or paradoxical figures as hats. Combinations of woodcut, drypoint on copper, and hand painting, the flatness of the figures contrasts with the dimensionality of their headpieces and a narrative begins to open up between the adorned female and the Möbius – a physical manifestation of abstract or invisible concerns. Themes that arise include recurrent and paradoxical thinking, the age of reason, communication, femininity, and the choices we make that define identity and our own realities.
Like the Lonely Hearts (2014) series, the Fascinators portraits grew out of one aspect of the Forty Fridas (2012) portfolio that I wanted to isolate and explore. As most of the subjects posing as Frida wore flowers or headscarves, I was intrigued by the way in which some of the arrangements—especially the more abstract or painterly—could be read as metaphors for the mood or thoughts of the wearer. I decided to focus on the depiction of thought and types of thinking with a larger series of portraits focused on this theme. I continue to be interested in the idea that thoughts and emotions can be materialized through art, and maybe even like a hat, put on and taken off at will.