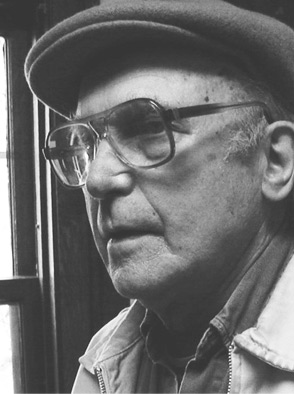 Groveland Gallery was honored to represent Eric Austen Erickson for over 40 years. Erickson, at the age 96, passed away peacefully on Jan 8, 2017. In addition to artwork, Erickson contributed his skills, time, and energy into the betterment of Groveland Gallery. This place would not be what it is today without him. He will be greatly missed.

Eric Erickson began his studies prior to World War II at the WPA Art Center and at the Minneapolis College of Art and Design, where he continued his studies after four years of military service. He then studied painting at the Arts Students League in New York under Victor Thall and Cameron Booth, as well as painting and sculpture at the Brooklyn Museum School with Max Beckman and Milton Hebald.

Erickson has taught at the Minneapolis College of Art and Design, Macalester College, The Studio School, the Art Center of Minnesota, the Minnesota Museum School, the Walker Art Center and the Grand Marais Art Colony. Erickson takes his imagery from the downtown urban landscape as well as his south Minneapolis neighborhood. In each work there is the recognition that the painting refers to a particular place—but the images are open enough to describe a feeling for it, rather than to prescribe the look of it.