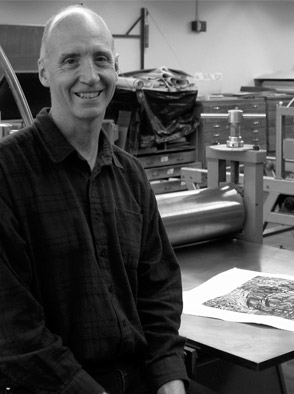 Minnesota artist Fred Hagstrom received his BA from Hamline University in St. Paul, MN and his MFA from the University of Nebraska-Lincoln. In addition, he studied at the University of Chicago for one year, as well as under S.W. Hayter at Atelier 17 in Paris, France. Hagstrom takes student groups to Australia, New Zealand and the Cook Islands. Studying the art of that region and drawing in nature during those trips has been influential in his work.

He has been teaching printmaking at Carleton College since 1984. His prints and artist's books are included in numerous public collections. Hagstrom lives and maintains a studio in St. Paul.
Artist Statement:
My work changed when I began spending hours drawing from nature. I have endless sketchbooks that come from this experience. These are informal works that I do for my own study. I rarely show them in public. The prints in this exhibit are among my first attempts to translate those drawings into more finished pieces.  The places documented in the prints are places that have a good deal of meaning to me, after many hours of drawing there.