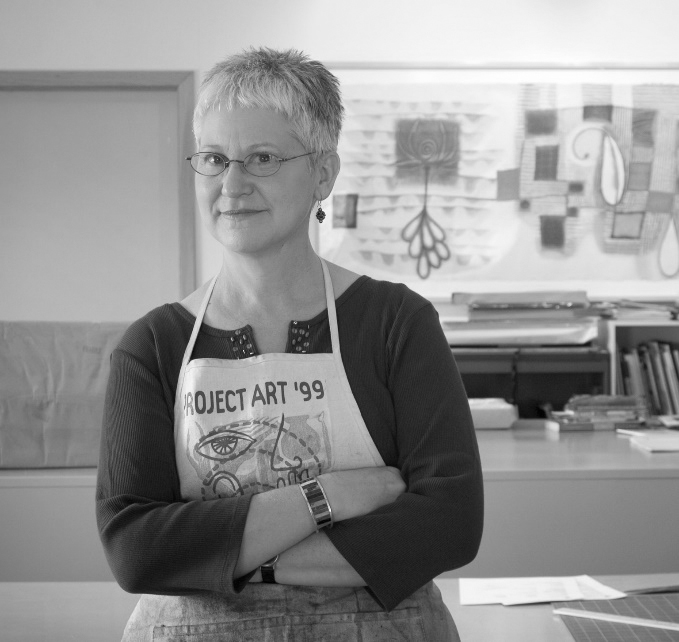 Karen Kunc has exhibited and sold her artworks around the world in her more than 30 years as a professional artist. The renowned artist, teacher and mentor has established her reputation internationally in woodcut printmaking and book arts, both as a producer and teacher.
Kunc is the Willa Cather Professor and Professor of Art at the University of Nebraska-Lincoln, where she has taught since 1983. She is the founder the school's Under Pressure Print Club — a community-based support group for UNL printmakers. In 2013 Kunc founded Constellation Studios to pursue and pass on her passion for print, paper and bookmaking. Kunc established this creative gallery, workspace and professional classroom in a refurbished and historic building in Lincoln, Nebraska's Antelope Valley neighborhood. Among Constellation's presses, type shop, wet paper studio, bookbindery, print and book collections and mixed-use spaces, Kunc serves as mentor, artist, curator and community organizer, aiming to develop young artists, spur careers and cheer culture.
Artist Statement
"My work as an artist/printmaker addresses issues of the landscape and our natural surroundings as direct influences from my Nebraska heritage, my daily experiences and viewpoints in the landscape of the plains and from extensive travel, and as artistic interpretation and contemplation on larger issues of the eternal life struggle, of endurance and vulnerability, growth and destruction.
"My prints suggest extremes of weather and natural forces at work, a sense of the micro/macrocosm, set against landscape or space, both wild and cultivated, intimate and unknowable. I am interested in the span of time it takes to wear away a canyon, build a mountain, the erosion forces that continually wash onto the plains, forming the earth, and, ultimately, shaping our world. My hope is that these larger concepts are provoked by viewing my work with a poetic and intelligent sense of wonder.
"My symbolic images are derived from a rich mix of instilled influences, born at home, and greatly expanded and contextualized from seeing life lived the world over, my experiences and past work, and issues in contemporary art. I recognize a host of associations that flow out of my work and are research interests for me – from nature and science, spiritual and religious thought, art historical and modern icons, immigration narratives and native myths."