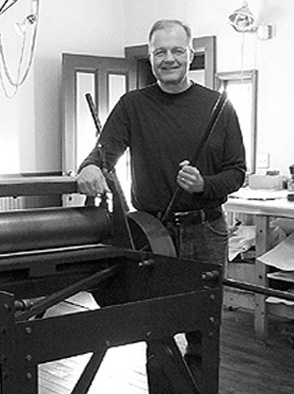 Larry Welo grew up on the Iron Range in Hibbing, Minnesota. He received his BA in art and biology at Luther College in Decorah, Iowa. The rolling hills and farmland of the northeastern Iowa landscape inspired Larry to begin drawing what he saw around him. Determined to work professionally as an artist, he decided to focus on etching. His career took him from Decorah to Minneapolis, where he and his family lived for 18 years. In 1994, Larry relocated to southern Wisconsin, attracted by a smaller community and an environment that was similar to that of his youth. Larry and his wife, Patricia, now reside in Mount Horeb, Wisconsin. The artist maintains a spacious printmaking studio in the historic Blue Mounds Opera House.

Artist Statement:
Most of my subjects are from around here. I sketch ideas on paper, and I photograph. Back in the studio, I begin utilizing the material that I gathered plus my imagination. I try to take chances when I work, attempting new approaches to see what happens. For me, one of the beauties of painting is the possibility to add more paint to the canvas. When I do that, I leave something showing of what preceded, suggesting that the creative process is a journey.
View Larry Welo's prints in recent current exhibition, Paperwork.
Larry Welo is featured in a segment of "Talk of the Trollway," presented by Mount Horeb Cable TV in Mount Horeb, Wisconsin.