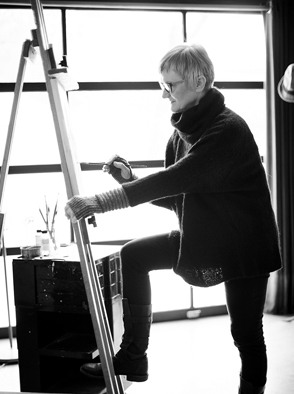 Tina Blondell was born in 1953 in Salzburg, Austria, to an American father and Austrian mother who encouraged her early interest in art. As a child, her father taught her to draw, and travels with her parents exposed her to art throughout Europe. A common thread to her work is a focus on the interplay of light and dark elements – the chiaroscuro of the Italian masters who originally captured Blondell's imagination as a child growing up in Italy.

In the mid 1990s, Blondell settled in Minneapolis, Minnesota (USA) where she continues to live. Blondell has exhibited her work widely and her work is included in many private and public collections including the Minneapolis Institute of Arts and the Weisman Art Museum.
Artist Statement:
Objects have played a significant role in my life for as long as I can remember. As a child I was frequently uprooted – sometimes across town and other times to a different country where people spoke different languages and observed different customs. In spite of all this upheaval the one thing that remained constant were the objects we could pack up and unpack at our new destination. As I got older I began to think of these objects as the soul of my home because every one of these things had a story to tell. Everything had meaning which prompted my interest in recording objects – from the functional to the sentimental.