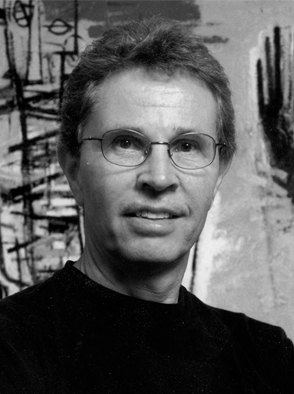 Wendell Arneson worked as a professor of art at St. Olaf College from 1978 to 2016 where he taught painting, drawing and color design. Arneson's honors and awards include a research travel grant to the British Isles and Italy.

In 1994 and 1996 he received a research and development grant allowing him to participate in Master Artist workshops at the Santa Fe Institute of Fine Arts with Gregory Amenoff and Nathan Oliveria. In 2009, St. Olaf College awarded Arneson the Oscar and Gertrude Boe Overby Distinguished Professorship recognizing his long, influential teaching career at St. Olaf. His work has been shown in galleries throughout the Midwestern United States and is featured in numerous corporate and museum collections. Arneson lives in Northfield, Minnesota with his wife and two daughters.
Artist Statement:
I am interested in work that resides in both objective and non-objective worlds. I am equally attracted to gestures and non-descriptive marks as well as the power and ambiguity of symbols and images. Mixed media drawing inhabits a place between the known and the unknown.
This work draws from an inventory of images that make multiple, yet varied references allowing for content to shuffle, reinvent, and remake itself. Art, for me, does not provide answers but rather provokes questions and seeks possibilities. I am an image-maker and interested in the intersection of figuration and abstraction.
The "Spring Creek and Gatekeeper Series" is an environmentally conscious body of abstract paintings.  Land images honor the specific location while also seeking multiple layers of entrance and ambiguity for the viewer.  The images are imaginatively less certain and provoke a visual journey of transformation.  What matters most is a painterly dialogue between image, shape, color, tactile surface, and space.  The end result, the painting, evokes a journey of discovery and imagining.
"Seek clarity while honoring mystery and ambiguity"