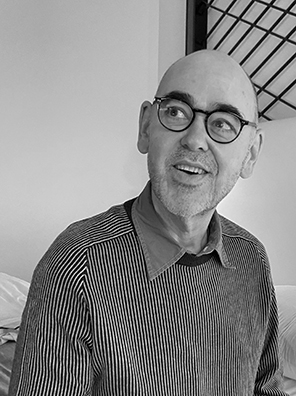 Bill was born in Minneapolis and grew up on the East and West Coasts. He attended UCLA and the University of Iowa where he studied art history with an interest in American Realist painters and the history of Japanese art. Bill's career as an artist has included 27 years of solo and group shows in Des Moines, Santa Fe, Tucson, Scottsdale, Minneapolis and points in between. Bill remained active at Groveland Gallery until his death in April, 2023.

In addition to his studio painting he has worked on large-scale mural projects for Sol LeWitt, Iowa State University, and the Iowa National Guard. For several years Bill took a break from painting to focus on teaching adult literacy, volunteering to create art installations for the Des Moines Public Library, and serving as a caregiver for older family members. With those responsibilities now ended he has returned to painting full time.
Artist Statement
Within certain landscapes there is a quiet, meditative calm that I'm drawn to paint. In these panoramic views, people are not visible, but their anonymous presence inhabits the landscape – in the pinpoint lights of far away cities, in the small cars traveling across a distant highway, or aboard an airplane leaving behind contrails that bisect the sky. This understated human action is distant and almost unnoticed alongside the stillness and isolation of nature. Sometimes, birds, or other wildlife, make a fleeting appearance but humans are always minor, background characters. I'm instinctively drawn to this combination of themes. I don't consciously plan for this pairing, it simply evolves as I'm painting. I can't say what it all means but it's certainly a manifestation of my thoughts, emotions and my attempts to interpret the world.