Visit the Twin Cities' top Gallery of Local and Regional Art.
Since 1973, Groveland Gallery has specialized in exhibiting and selling contemporary, representational paintings, drawings and original prints by Midwestern artists. Our Minneapolis art gallery features new exhibitions every six weeks, and offers fine art collection services for individuals and businesses.
We're just a short walk from the Walker. Google map us.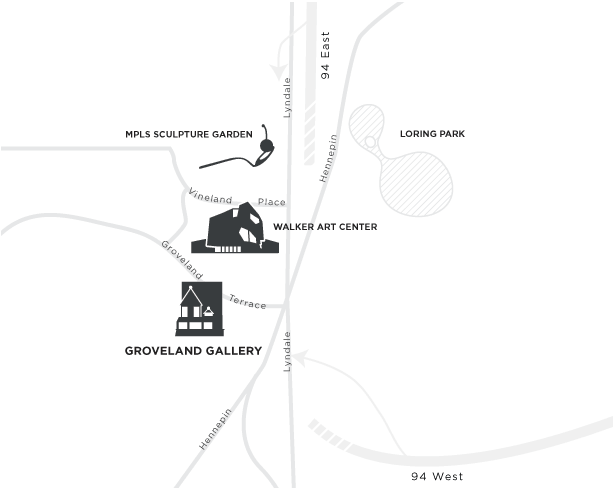 Groveland Gallery is located in a restored 1890's mansion on the edge of downtown Minneapolis, just south of the Walker Art Center.
Parking is available in the parking lot directly in front of the building or on the north side of Groveland Terrace. Additional parking can be found in the Walker Art Center's underground parking ramp. The entrance is located on Vineland Place.
February 24 – March 31, 2018
PARTS
Book Release and Opening: Saturday, February 24, 2-5 p.m.
Gallery Talk: Thursday, March 22, 7 p.m. with Michael Kareken and Minnesota Museum of American Art Curator, Christopher Atkins
For the past three years, Michael Kareken has been visiting auto salvage yards and creating drawings of the skeletal remains of cars and trucks he discovers in these automotive graveyards. Over one hundred drawings have been selected to create the book, PARTS. The accompanying exhibition will feature a selection of drawings that are included in the book.
Add to Calendar 09-05-2014 01:00:00 10-14-2014 11:59:59 11 NAME OF ARTIST Exhibition at Groveland Gallery SHORT DESCRIPTION HERE 25 Groveland Terrace, Minneapolis, MN 55403 Groveland Gallery info@grovelandgallery.com true DD/MM/YYYY
March 10 – April 14, 2018
Exit Strategy
Opening Reception: Saturday, March 10, 2-5 p.m.
Tim Tozer's divided time between two countries, the UK and the US, has inspired and provoked his work. As the artist writes, "I've lived in the US for half my life, although I remain a citizen of another country. I still dream of a home in England, a home I recognize, even though the logic of the dream folds the city upon itself and mixes it with other places. The facts are wrong, but the truth is whole. Images and feelings pollute each other to make a new thing."
Add to Calendar 09-05-2014 01:00:00 10-14-2014 11:59:59 11 NAME OF ARTIST Exhibition at Groveland Gallery SHORT DESCRIPTION HERE 25 Groveland Terrace, Minneapolis, MN 55403 Groveland Gallery info@grovelandgallery.com true DD/MM/YYYY