Visit the Twin Cities' top Gallery of Local and Regional Art.
Since 1973, Groveland Gallery has specialized in exhibiting and selling contemporary, representational paintings, drawings and original prints by Midwestern artists. Our Minneapolis art gallery features new exhibitions every six weeks, and offers fine art collection services for individuals and businesses.
We're just a short walk from the Walker. Google map us.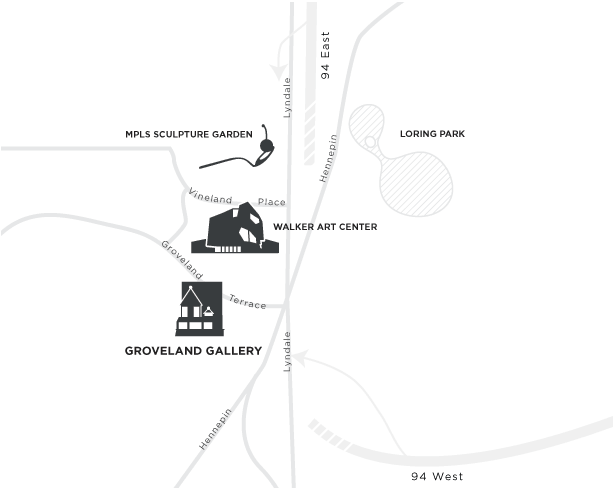 Groveland Gallery is located in a restored 1890's mansion on the edge of downtown Minneapolis, just south of the Walker Art Center.
Parking is available in the parking lot directly in front of the building or on the north side of Groveland Terrace. Additional parking can be found in the Walker Art Center's underground parking ramp. The entrance is located on Vineland Place.
Exhibition Information
April 29 - June 3, 2017
Chroma
Opening Reception: Saturday, April 29, 2-5 p.m.
Charles Lyon continues to be inspired by the delicacy and the intensity of flowers, specifically peonies, dahlias and zinnias. These blossoms, made up of multiple layers of soft, translucent petals that burst outward from their centers, provide the artist with subject matter that is both visually rich and technically challenging. Although they vary in texture, color and complexity, all of Lyon's blooms reflect the seemingly fleeting months of Minnesota's warmer seasons. The intricacies of their designs – fashioned by nature – reveal their beauty as well as their purpose within their environment.
Add to Calendar 09-05-2014 01:00:00 10-14-2014 11:59:59 11 NAME OF ARTIST Exhibition at Groveland Gallery SHORT DESCRIPTION HERE 25 Groveland Terrace, Minneapolis, MN 55403 Groveland Gallery info@grovelandgallery.com true DD/MM/YYYY
April 29 - June 3, 2017
Under Light and Leaves
Opening Reception: Saturday, April 29, 2-5 p.m.
In the past decade, Michael Banning's career has taken him from Minneapolis, to Milwaukee and Chicago. With each move, the artist carefully explored the new urban landscape through his paintings. Recently, in a desire to examine the familiarity of his domestic space, Banning's subject has shifted to interiors. While these paintings are formal studies of light, shape and composition, they simultaneously provide an intimate look at the artist's apartment. Quiet and contemplative, these interior scenes take on an almost voyeuristic point of view.
Add to Calendar 09-05-2014 01:00:00 10-14-2014 11:59:59 11 NAME OF ARTIST Exhibition at Groveland Gallery SHORT DESCRIPTION HERE 25 Groveland Terrace, Minneapolis, MN 55403 Groveland Gallery info@grovelandgallery.com true DD/MM/YYYY