Visit the Twin Cities' top Gallery of Local and Regional Art.
Since 1973, Groveland Gallery has specialized in exhibiting and selling contemporary, representational paintings, drawings and original prints by Midwestern artists. Our Minneapolis art gallery features new exhibitions every six weeks, and offers fine art collection services for individuals and businesses.
We're just a short walk from the Walker. Google map us.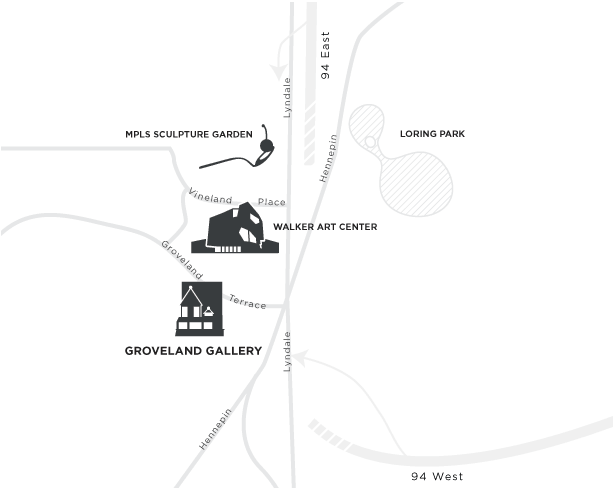 Groveland Gallery is located in a restored 1890's mansion on the edge of downtown Minneapolis, just south of the Walker Art Center.
Parking is available in the parking lot directly in front of the building or on the north side of Groveland Terrace. Additional parking can be found in the Walker Art Center's underground parking ramp. The entrance is located on Vineland Place.
Upcoming Exhibitions
December 3 - January 21, 2017
Shorelines
Opening Reception: Saturday, December 3, 2-5 p.m.
Kit Wilson has always been fascinated with nature. Variations in atmosphere, color and light found in the outdoors has long captured her imagination. In earlier paintings Wilson frequently aimed her focus on trees, broad views of the sky, and the undulating topography of open spaces, depicting them with nearly microscopic realism. In her most recent work, Wilson continues to hone her sharp observational skills as her gaze drops to take in the bodies of water she finds herself surrounded by on a daily basis.
Add to Calendar 09-05-2014 01:00:00 10-14-2014 11:59:59 11 NAME OF ARTIST Exhibition at Groveland Gallery SHORT DESCRIPTION HERE 25 Groveland Terrace, Minneapolis, MN 55403 Groveland Gallery info@grovelandgallery.com true DD/MM/YYYY
December 3 - January 21, 2017
New Work
Opening Reception: Saturday, December 3, 2-5 p.m.
Fred Anderson's imagery is simultaneously personal and seemingly familiar. The paintings in this exhibition illustrate the spaces and objects that populate his everyday life, from still lifes of toy cars, trains and flea-market finds, to interior compositions that reveal glimpses of his home, the house around the corner, and the old farmsteads just outside the city limits. Taken as a group, this exhibition acts as a painter's journal, a record of memorable encounters with light, composition, and landscape.
Add to Calendar 09-05-2014 01:00:00 10-14-2014 11:59:59 11 NAME OF ARTIST Exhibition at Groveland Gallery SHORT DESCRIPTION HERE 25 Groveland Terrace, Minneapolis, MN 55403 Groveland Gallery info@grovelandgallery.com true DD/MM/YYYY